Konica Minolta



and Y Soft
Embed SAFEQ Cloud into your Konica Minolta MFP
SAFEQ Cloud enables Konica Minolta multifunction printer (MFP) users to let go of print management and take their print to the cloud.
Explore SAFEQ Cloud
Your print infrastructure
–managed on your behalf
YSoft's SAFEQ Cloud infrastructure enables any company using Konica Minolta Bizhub devices with Open-API or IWS technologies to successfully let go of print management and secure their printing environment. The software solution enables users to leverage an easy-to-use, reliable, and secure print setup.
SAFEQ Cloud simplifies and streamlines


Konica Minolta multifunction printer environments
Pick the best KM Platform to engage with SAFEQ Cloud
SAFEQ Cloud prompts the installer to choose between Konica Minolta's Open-API platform and the multi-tenant true cloud platform, IWS.
Simply jump to the 'Embedded' section of our admin interface to configure and deploy embedded release terminals for your MFPs.
Completely serverless solution
Configure and manage your print fleet from our web-based interface
Administrators can deploy new devices in a matter of minutes
Access control
Konica Minolta IWS
In working with industry leaders like Konica Minolta, Y Soft can deliver next-generation, true cloud technology to your business today.
Utilising Konica Minolta's IWS platform for your print infrastructure, you can easily deploy SAFEQ Cloud – a process that takes minutes and doesn't require physically install software on the devices onsite.
SAFEQ Cloud-embedded Konica Minolta IWS offers you the following:
A simplified print infrastructure

Reduced operational IT costs

Seamless deployment
Improved data and document security
Intuitive user experiences
Konica Minolta OpenAPI
By installing the SAFEQ Cloud embedded application, customers get full control of their fleet and can enjoy a safe print experience. It also allows you to seamlessly deploy new devices and reduce print tasks.
Reduced operational IT costs

Strongest security between endpoints

Seamless deployment of print devices and users

Easy, continuous software updates

Fast adoption (10 minutes to be specific)
A unified interface
Here's a look at how the SAFEQ Cloud display looks on your Konica Minolta IWS Multi-function printer panel.
The overview panel makes it extremely easy to find and select the type of document handling needed and get your print job through.
SAFEQ Cloud is easy to navigate and offers straightforward access to the MFP's different functions.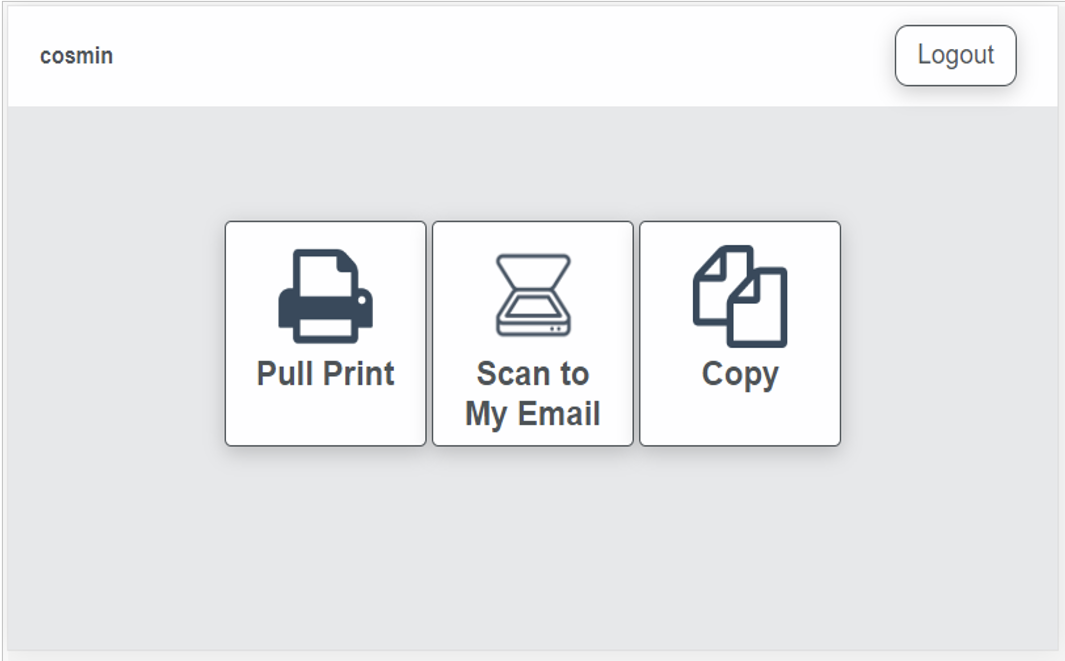 How to print with SAFEQ Cloud through
Konica Minolta IWS
One of the popular print solutions offered by Konica Minolta is IWS. This is their true cloud (cloud-native) solution. IWS technology is made to free companies from the tedious burden of managing their print infrastructure. This type of print software can seamlessly be deployed from anywhere, removes the need for additional components (such as VPNs), and is automatically running on the latest version.
The full IWS tour
Here's how SAFEQ Cloud works for your IWS MFPs. With SAFEQ Cloud installed on your Konica Minolta devices, you'll be able to manage, track, and control all printing within your organisation from one intuitive user interface. In short, you'll have a simplified print experience.
Partner comments
Partnered with Konica Minolta, we help customers seamlessly migrate their existing on-premise print environment to a cloud-based service on MFP printers.
Whether you have Konica Minolta multifunction printers across your entire organisation or have them in a mixed fleet, HCP can be integrated to help centrally manage your print fleet and reach a consistently great user experience.
Your secure Konica Minolta
print software solution
User Authentication
Avoid print-related security breaches. By installing SAFEQ Cloud on your Konica Minolta MFP, you have the opportunity to secure users and enhance user authentication.
Pull Printing
KM-managed print services (MPS) come with a host of security assurances. By including SAFEQ Cloud, you get to leverage its rock-steady pull printing feature.
Data Protection
Protect company data with Zero-Trust and end-to-end encryption. With SAFEQ Cloud, your infrastructure reaches full compliance with data protection regulations.
PrintIT Award for Mobility 2020
Y Soft was awarded the 2020 PrintIT Award for Mobility. This was awarded to the best mobile printing solution that delivers a cost-effective platform that offers productivity-enhancing features, is easy to use for end-users and admins, convenient, and secure.
Cloud Print Management Solution of the Year 2021
Y Soft was awarded the 2021 PrintIT Cloud Print Management Solution of the Year. This was awarded based on our breakthrough innovation, security, advanced functionality, and operation of an on-premises print infrastructure with SAFEQ Cloud.
SAFEQ Cloud wins Innovation Award 2022
At the PSS Developer conference 2022, we were awarded the "Innovation Award" for creating a pioneering solution for users with future-ready features that speak to the current and future needs of our software's users.