Get creative with
Customizations
The SAFEQ extendable system empowers you to create your dream print experience. Build a customized, scalable print and capture ecosystem with ease.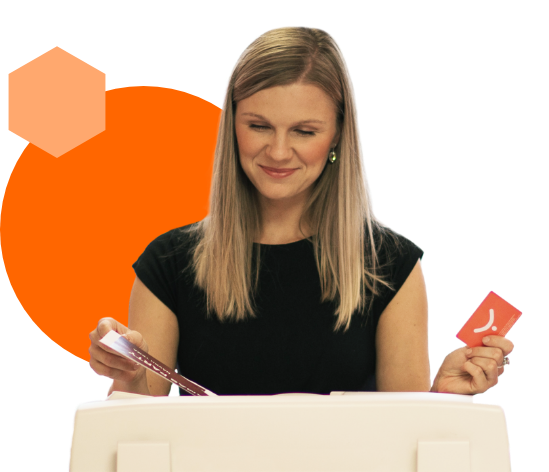 Customized software that keeps up with

your growth
With software integrations and extensions for fax, document capture, payments, converters, and more, we customize software to give our customers their best-fit IT environments.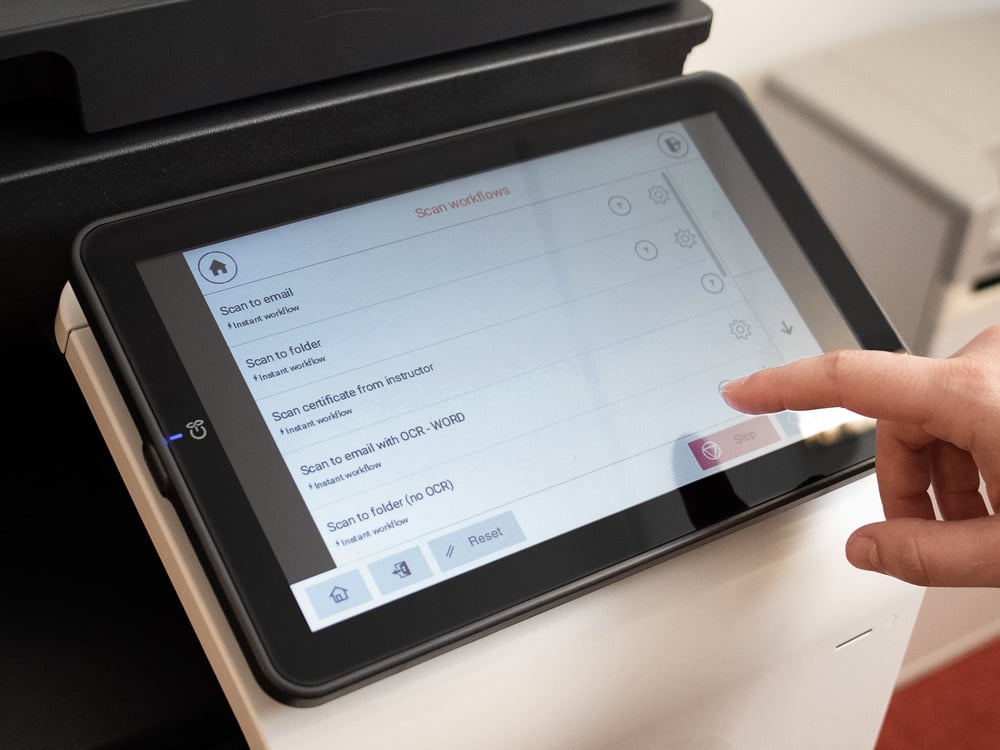 SAFEQ is an
extensible software

system

Leverage our extensive library of connectors and integrations to bring new functionality to your existing print infrastructure. SAFEQ gives you software that evolves with your needs. Simply deploy and enjoy.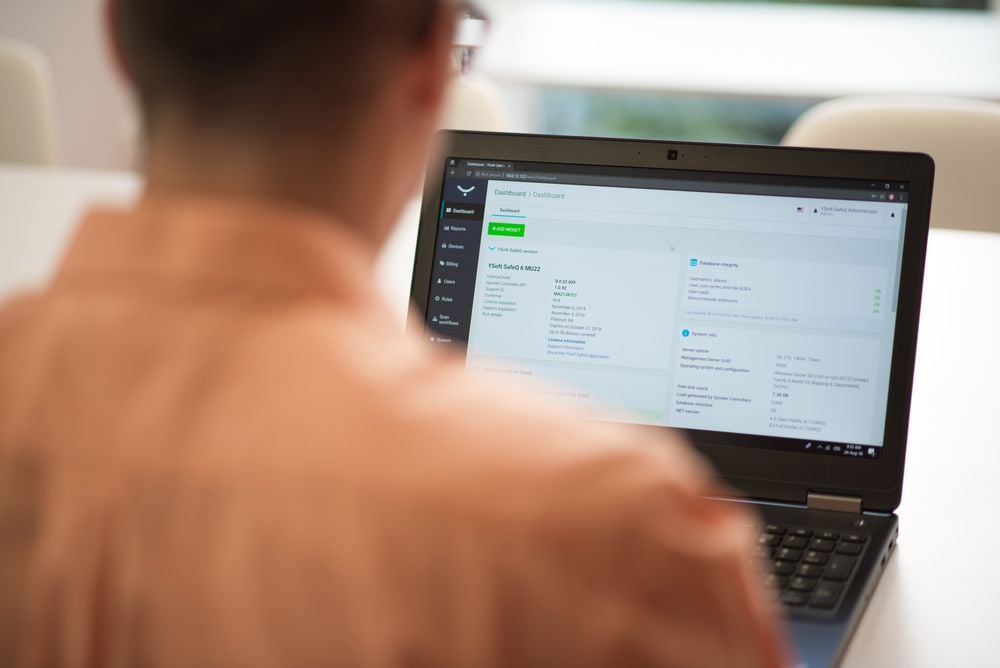 Grow your business

without outgrowing your software

SAFEQ is built to give you access to products tailored to your business growth. Design a custom-fitted print solution that meets your technical goals, with a tiered building block architecture, easy integrations, and multiple hosting options.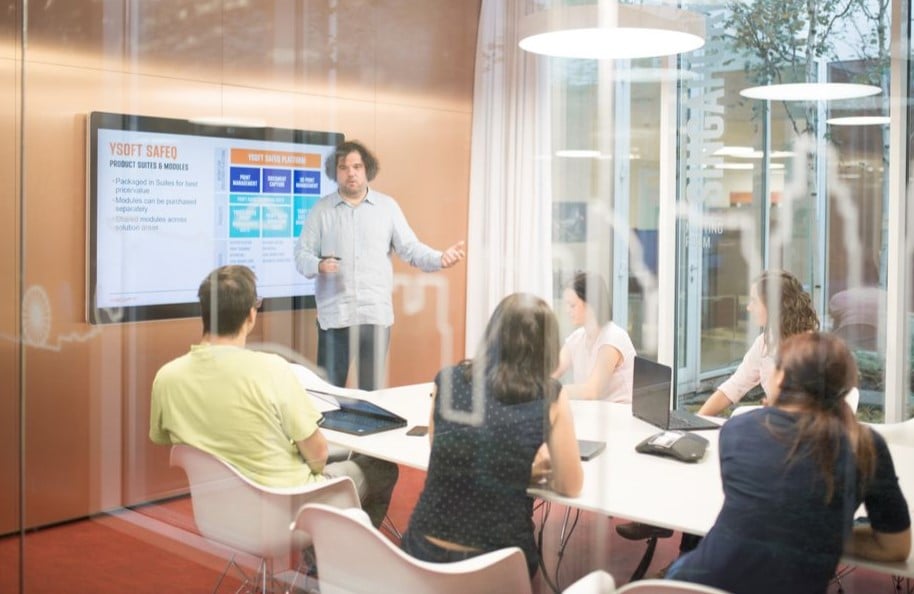 Building-block architecture
Design your ideal environment from the ground up with custom software development services. As your needs evolve, SAFEQ is right there to scale with you.
Integrations & extensions
Get more out of your print solution with extensible software integrations and add-ons that expand your print and capture capabilities in minutes.
On-prem or cloud-powered
The SAFEQ platform is one solution hosted anywhere, whether it's public cloud, private cloud, on-premises, or a combination (hybrid deployment).
3rd party connections
YSoft SAFEQ 6 can be integrated with and securely deliver documents to 3rd party applications.
In addition to the extensions listed here, SAFEQ has a Connector Library for the automatic delivery of scanned documents.
ADVANCED TECHNOLOGIES INTERNATIONAL
YSoft SAFEQ in a Central Reproduction Department
Accounts for printing, done through job ticketing. Developed and supported by ATI.
docuware connector
Scanning integration
SAFEQ scanning output can flow directly into DocuWare file cabinets and include any meta data a user enters at a multifunction device.
EPIC (HEALTHCARE)
Electronic patient record system
Print safely and securely from Epic, an electronic patient record system used in healthcare, to any networked multifunction device.
Google Chrome Printing
Backend server and Chrome browser extension
This solution allows users to natively print from a Chrome browser through YSoft SAFEQ.
Google Directory Export
Import domain users to YSoft SAFEQ
Easily insert users into the YSoft SAFEQ database. This tool lets you export users, roles, and cost centers.
Google Drive Upload
Upload scanned documents to Google Drive
Upload scanned documents to a user's Google Drive account; this requires service account access.
IManage
Streamlined delivery of scanned documents
Easily implement this simple scan workflow between SAFEQ and iManage.
Microsoft Azure AD
Synchronize users with Microsoft Azure AD
This proxy application allows SAFEQ to synchronize users with Azure AD through web requests or a library system (SIP2 protocol).
LEAP Practice Management
Delivery of scans and cost recovery reporting
A streamlined flow between YSoft SAFEQ and LEAP.
M-Files Content Management
Delivery of scan files and metadata
The script can be used to deliver scanned files to M-Files and other enterprise content management systems.
SAP (Silver Partner)
Enables prints from SAP to be accounted for in YSoft SAFEQ
Identify print job owners, device status sync, batch print, and get support for documents generated by Adobe® Document Services.
Scan to OnBase
Automatic delivery of information to OnBase
Scan to OnBase is an automated scan workflow for the electronic patient journal (a system called OnBase).
VSPX Enterprise
Reliable delivery of jobs to printers
This integration verifies print jobs and if a failure is detected, prints it again or redirects it to other printers. Print Roaming is required for some features.
WeChat & AliPay
Link WeChat and Alipay accounts to SAFEQ accounts
Use WeChat and Alipay mobile apps to log in to SAFEQ, upload print jobs, and make payments for prints and copies.
XEROX Print Awareness Tool
Integration with Xerox Print Awareness
Provides print accounting via a connector, allowing users to leverage the full feature set of SAFEQ and report accurate statistics for enterprise sustainability management.
Bath File for Printer Installation
A Windows batch file that deploys the YSoft SAFEQ Client, installs print drivers, and changes their configuration to the client workstation
An alternative for MSI packages supporting printer deployment to workstations. Since it's a text file, it is highly customizable.
BCIMPORT Billing Code Importer
Import billing codes from a text input file into your SAFEQ platform
BCimport is a command line tool for importing billing codes saving manual data entry.
PDF Converter
Automatic conversion of submitted print jobs to a stored PDF
Use a Rules-Based Engine-triggered rule to convert submitted print jobs to PDF format and store it in a pre-defined user or shared networked folder.
Credit Charger
Automatically batch-apply virtual funds to SAFEQ accounts
Uses an XLSX file to add money to a user's virtual or money accounts.
Guest Account Self-registration
The GUI allows guests to create SAFEQ accounts by themselves
This extension allows guests to create SAFEQ accounts by themselves – allowing for printing, copying, and scanning without the need for IT help.
Network Printer Migration
Simplifies migrating networked printers into the SAFEQ platform
Detects all locally installed networked printers and automatically creates them in your environment. Optionally, install the SAFEQ Client and reconfigure all Windows printers to send print jobs to your SAFEQ platform.
Print to Email
Resend print jobs from SAFEQ to users as an email attachment
A third-party system is configured to generate print jobs, which are then delivered to YSoft SAFEQ. This allows users to review the print jobs before they are printed and decide whether to print them or not.
S/MIME Encryption for Emails
Send emails with scanned documents signed by a user's public key from Microsoft AD
Users create scans by using SAFEQ automated scan workflow on an MFD that has the SAFEQ embedded terminal installed. The workflow is configured to encrypt the email message using the public keys of the specified recipients from the directory service using LDAP query. Depending on the workflow configuration, the digital scan can be sent to the user or other members of the organization.
Scan Metadata Creator
Enhance the level of scan metadata creation with XML-type metadata files
The extension consists of an executable file and an XML template which can be adjusted to the required format of supporting variables. These can be placed into the template file and the solution replaces the variables with their values.
Scan to SFTP
Add SFTP/FTP as a scan workflow destination
This extension has been created using Scan to Script to add SFTP/FTP as a viable scan workflow destination.
Scan Workflow Processor (SCANWF)
Extend the Scan-to-Script functionality
The SAFEQ Scan Workflow Processor (scanWF) is a stand-alone tool that can be used to extend the Scan-to-Script functionality of YSoft SAFEQ with various configurable workflow steps.
It can be run either as a command-line tool or as a Windows service that waits for a workflow definition file to appear and then executes it.
Self-Assigned Cards
Method to self-assign and reuse staff ID badges
Customers keep a pool of cards for users to self-assign when releasing a print job. These cards are unassigned at a pre-defined time (typically, during the night) by a dedicated cleaning script. Cards can be self-assigned again the next day.
YSoft SAFEQ IP Changer Tool
Speeds up the IP address change procedure
With this tool, the IP address change procedure for SAFEQ on-prem or its external database server is made faster. Can run from a Windows Server command without deploying additional runtime environments.
PayPal and DIBS payment gateways are standard with YSoft SAFEQ. Any additional payment gateways provided as either an extension or integration are listed here.
ARL Payment Provider
Mainly used in libraries, this two-way integration allows users to pay for their YSoft SAFEQ activity. User balances are read from ARL and YSoft SAFEQ charges users for printing, copying, or scanning.
CreditGuard
The CreditGuard payment gateway operates within the Israeli market and provides a web-based credit card payment processing interface to merchants.
eKashu
Made by Creditcall and operating in 37 countries, eKashu is a classic e-commerce solution: a hosted payment page that accepts payments by credit card, debit card, or PayPal.
GlobalPayments
GlobalPayments (previously Realex) operates mainly, but not only, within the Ireland and UK markets. Provides a web-based credit card payment processing interface for many payment providers.
Ingenico Ecommerce
Formerly known as Ogone, this gateway supports various payment methods supports over 150 payment methods globally, such as iDeal, direct banking, PayPal, and WorldPay.
IPS Group
IPS facilitates the use of pay-to-print functionality in YSoft SAFEQ. The payment gateway reads and stores account balances and charges users for their print activity. Developed by BBM spol. s.r.o.
Iskam
Iskam stores information about user balances and interacts with them. Developed by ApS Brno s.r.o., it enables YSoft SAFEQ to read the balances from ISKAM and charges users for their print activity.
IZLY
IZLY allows charging for print, copy, and scan activity. This is a popular French system that allows YSoft SAFEQ to read user balances and charges for print activity.
MultiSafePay
The MultiSafePay system allows users to recharge their YSoft SAFEQ accounts.
NetPay International
Two-way integration for user accounts to read balances and charges users for YSoft SAFEQ activity (printing, copying, or scanning).
Nelnet
OneStopSecure by Nelnet (formerly UniLink Data Systems) is used mainly in Australia. All credit card payments are accepted through PCI-secured, payment-compliant technology. The system standardizes how businesses ensure payment information updates to finance and other systems.
Paytrail
With Paytrail, users can easily add funds to their YSoft SAFEQ accounts. The system acts as a plug-in for this payment gateway popular in Scandinavian countries.
Pelecard
PeleCard is a credit card processor operating within the Israeli market. This plugin uses the Pelecon e-commerce-hosted page solution to enable users in Israel to pay using a credit card.
PRZELEWY24
Credit card payment processing that lets users add additional funds to their YSoft SAFEQ account. PRZELEWY24 provides a web-based credit card payment processing interface for many payment providers, commonly used in Poland.
SnapScan
SnapScan is a popular payment solution in South Africa, allowing users to pay via a smartphone app by scanning a QR code. This plugin displays the QR code and verifies the payment status using API calls to the SnapScan servers.
WireCard AG
An integration between the YSoft Payment System and the Wirecard Checkout Page. The integration allows the charging of user accounts in YSoft SAFEQ through this gateway.
WPM Education
The WPM Education payment gateway operates within the UK market and provides a web-based credit card payment processing interface to UK-based universities.
Delve into our optional
Print Job

Customizations
Display Owner in Job List
The print job owner is sometimes not clear when jobs are submitted to a shared queue. This extension adds the job owner to the job title. Job titles can be modified for certain job types via the Rule-Based Engine.
Guest Printing
This customization generates and delivers credentials (any PIN, code, password or CAC) to guests without IT interference.
Job Archiving
All jobs (print, copy, scan, and fax) can be archived. Once archived they can be searched and triggers can be defined to notify auditors of potential data leaks.
Job Routing
Faster delivery of print jobs to MFDs, estimation pop-up & local monitoring. The proxy accepts print jobs from various sources, processes them, and sends them to YSoft SAFEQ.
Multi-Level Reporting
Generate web reports in a hierarchical tree structure based on data from Active Director/LDAP. Web reports are shown as pivot tables and can be exported as a .CSV file.
My Savings Data
Users can review their personal print, copy, and scan activity and their environmental savings. The widgets are available after authentication to the YSoft SAFEQ web interface.
Offline Accounting
This extension provides a gateway to enable offline accounting. The connection also ensures that users cannot print when the payment account shows insufficient funds or when the user has reached a quota limit.
Print Delegation
This is a web interface for managing members of a delegated print queue. It automatically creates shared print queues and offers simple language translation.