High-security
printing

& scanning
Mitigate print-related risks and protect what's yours with SAFEQ as your barrier.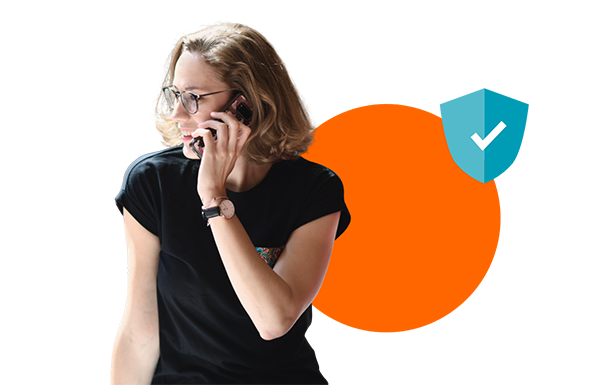 Multi-layered security

for a multi-dimensional threat landscape
From development to available features and vendor agreements, we make your print platform a safe place in an unsafe world.
Ask us how
The level of security in print services
Security models need to change
85%
Report their security team is understaffed
24%
Are confident that their print infrastructure is fully protected
48%
Have an encryption strategy applied across their enterprise
Security protocols to cover all bases
No more risky business
At Y Soft, we're all about full-estate security. You get a secure print solution where all the behind-the-scenes is already taken care of (penetration testing, vulnerability scanning, as well as threat and intrusion prevention) with a broad set of security features to keep your data and users safe. Security is applied to every step of the SAFEQ print journey, from design to final release.
Protected
cloud and on-prem environments
Regardless of hosting, SAFEQ wraps your company in a security blanket. While you get in-depth user and data protection with SAFEQ 6, our cloud solutions (SAFEQ Cloud or SAFEQ Managed) take you the extra mile and provide unparalleled opportunities to mitigate risk.
Keep users safe and sound
Security standards are constantly challenged, especially in the on-prem world. The cloud has disrupted traditional security models. With zero-trust security architecture, role-based access control (least privilege), and user authentication, no one gets left behind. Your users are always in safe hands with SAFEQ.
Protect your company and its data
Domains and networks are complex, and it's not enough to rely on a firewall to keep data secure. SAFEQ delivers secure offline and internet printing with end-to-end data encryption, protected data storage, role-based access control and identity management, and authentication. SAFEQ is built on a zero-trust security framework.
Enjoy a fully compliant solution
Regulatory compliance isn't just a requirement, it's how you validate that the solutions in your IT infrastructure are secure to their full extent. With SAFEQ, you get a solution that is regularly updated, enabling an always secure print infrastructure, compliant with GDPR, ISO-27001, and cloud security certifications.
We're dedicated to
protecting customer data
in all that we do 🔒
Here's how we put compliance at the
forefront of our software security.
General Data Protection Regulation (GDPR)
Y Soft is committed to complying with national and international regulations and maintaining technical security measures and organizational procedures to safeguard personal information. We have strict procedures in place to ensure we remain compliant with the General Data Protection Regulation (EU) 2016/679.
ISO 27001 - information security management systems
Y Soft has achieved ISO/IEC 27001 certification, an internationally recognized standard for information security management systems (ISMS). The accreditation provides independent assurance that systems are designed and operated with cloud-first security principles and that robust processes are in place to build resilience and maximize data security.
SOC-2 trust service principles
SOC 2 defines criteria for managing customer data based on security, availability, processing integrity, confidentiality, and privacy. Y Soft has developed a framework that considers the security guidelines to secure our customers' information. Y Soft regularly undergoes independent verification to ensure we offer the most secure solutions in the industry.
Open Web Application Security Project (OWASP)
Our application has been built from the ground up to ensure the highest possible data security compliance. The platform is designed against OWASP (Open Web Application Security Project) best practices and principles. We also use specific NaIST and Microsoft SDLC guidance documents for selected areas.
Cloud Controls Matrix (CCM) & CAIQ
Y Soft uses the Cloud Controls Matrix (CCM) control framework to align our cyber security to the CSA best practices, which is considered the de-facto standard for cloud security and privacy.
SD-PAC by Security Innovation
We recognize the importance of application security for customers. Y Soft has partnered with Security Innovation to assess their software development lifecycle (SDLC) security practices and activities for the development organization of the SAFEQ.
High-security printing

in all SAFEQ solutions
SAFEQ 6 (On-Prem)
On-prem technology requires a server onsite to run and protect your print architecture. The responsibility to manage servers and uphold compliance falls to the on-site IT team.


Complete

accountability for document handling with watermarks and digital signatures
Secure access to multi-function devices only by authorized users
Secure electronic delivery of documents to predefined locations

Custom or templated reports with fact-based data and usage audits

Secure printing from smartphones and tablets



Authentication & print roaming


Learn more about safeq 6
SAFEQ Managed
YSoft SAFEQ Managed includes powerful features which deliver robust printing and document capture as a subscription service–managed and supported by Y Soft. On top of the security mechanisms provided with SAFEQ 6, you also get:


Usage rights and various user authentication methods
Secure print roaming from any printer in the SAFEQ system (vendor-agnostic)
End-to-end encryption of data in transit and at rest

Zero-trust network architecture




Learn more about SAFEQ Managed
SAFEQ Cloud
YSoft SAFEQ Cloud is a native-cloud SaaS solution, fully managed, supported, and run by Y Soft. The solution enables always-available printing in an unwavering zero-trust environment. In addition to the safety mechanisms provided in SAFEQ 6 and Managed, you get:


Usage rights and multiple on-prem and cloud Identity Access Management
Integration with Google, Okta, Auth0, Azure, and PingID identity providers
Single sign-on, multi-factor authentication, and role-based access control
Quarterly penetration testing, handled by Y Soft
Continual vulnerability scanning of the architecture


Learn more about SAFEQ Cloud
Dive into each
security feature
SAFEQ boasts a full complement of integrated security features. From securing users, protecting data, and
process compliance, to data center security – we've got you covered.
Multi-factor authentication
User authentication prevents documents from being printed when the user isn't present. Use a combination of cards, pins, QR codes, and username & password for higher security.
Cloud authentication
SAFEQ Cloud integrates cloud authentication (Google, Okta, Auth0, Azure, and PingID) into your print infrastructure and accelerates user productivity with single sign-on (SSO).
Single sign-on
Enable users to log in to SAFEQ with one set of credentials. With SSO, a user only enters their login credentials one time on a single page to access the entire SaaS application.
Print roaming (pull printing)
Allow users to submit print jobs from their computer, mobile, or tablet. These print jobs are held in a secure queue until the user authenticates and releases the document.
Secure print queue(s)
Users can use a single print queue for pull printing (secure hold-and-release queue) or multiple queues for direct print. Control who has access to each queue with centralized policies.
Access management
In line with the zero trust philosophy, users get the option to configure their solution for least privilege, role-based, and trusted access controls.
Controlled guest access
Guests can easily print from any device, to any location, with an ID that allows them to access your print environment without IT intervention.
Zero Trust
If you run a zero trust network architecture (ZTNA), extend it to include your print ecosystem. Use your own certificate authority–and keep full control.
Data encryption
Keep your data safe with end-to-end data encryption, in transit and at rest. Data encryption is configurable to meet your needs.
Encrypted communication
All communication to and from cloud services and endpoints is encrypted. Cryptography ensures segregation, rotation, and uniqueness of keys.
Secure data location
Agile services deployment and data storage options help you control where your data resides.
Data center security
From an AWS infrastructure to penetration testing, SAFEQ Cloud ensures full data center security.
Incident management
Y Soft has a complete Incident Management and Major Incident Management Procedure in place to mitigate any potential risk or security breach.
Controlled document storage
Take advantage of multiple document storage options, controlled down to the individual user or site level. Options include the cloud, your network, or on your device.
Data separation
Strict logical separation of data through domain and certificate concepts ensures that only you can access your data.
Learn more about Y Soft's
compliance approach
Securely connect users'

devices with Cloud
With SAFEQ, you don't have to rely on individual users applying system updates; centralized administration ensures that individual workstations are always synchronized with the latest security settings, policies, available printers, and queues.
SAFEQ Cloud is
your safe space in an
unsafe world
SAFEQ Cloud is hosted on Amazon Web Services (AWS)–the world's most comprehensive and broadly adopted secure cloud platform. No other cloud provider offers as many regions with multiple Availability Zones connected by low latency, high throughput, and highly redundant networking.

The solution can also be deployed and delivered via the customer's own private cloud infrastructure on other hosting platforms.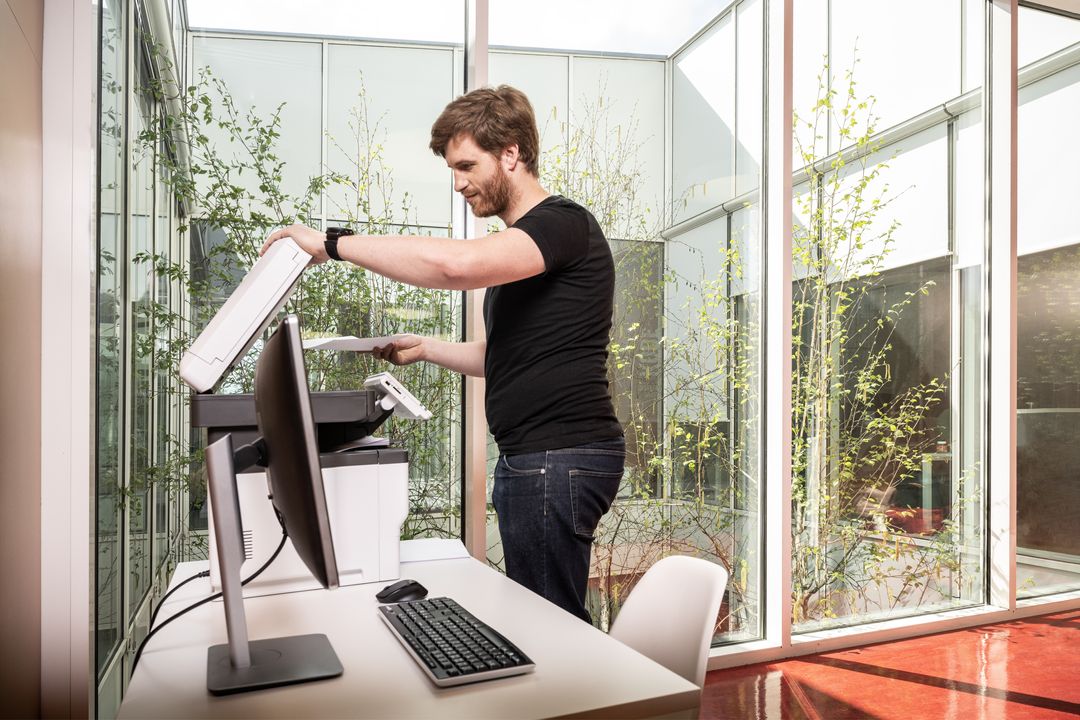 Data location
Manage your cloud
solution locally
Unless otherwise agreed prior to account setup, all processing and storage of customer data within the SAFEQ Cloud solution will be managed locally. This means that for organizations in the EU, data will be stored by default within the EU, US customers' data will remain in a US-based datacentre, APAC in AP, and for UK government customers, data is processed and stored in UK Government GovCloud.