In our more than 20 years of existence in the print industry, attending technology events has become a way of life at Y Soft. With big ambitions for our future, we know that a significant part of realizing our vision is stepping outside and connecting with partners, industry experts, customers, and analysts. For a long time, we've seen the value events bring to our innovation, our people, and our company.
We've made our way from a newbie to a pioneer, and we owe a lot of our success to the many people who have inspired, challenged, and rooted for us through our journey. This article we write to acknowledge the great experiences and inspiring people we've encountered in more than a decade's worth of event participation.
In 2023, our business has never been more set on our future prospects. With a lazor focus on our vision and the road ahead, we haven't taken a lot of time to reflect on the past or our journey to where we are today. Let's do that together.
Seeking out Print Industry News
While years of industry knowledge and experience are critical to driving the market forward, it's equally important to step back from the desk and root out industry innovations and breakthroughs. To achieve that, we've set our sights on technology events like print industry trade shows, tech expos, and conferences.
Every year, YSofters head to different events that, in one way or the other, tackle technology or business innovations that carve a path for offices in the future.
By attending these industry events, we uncover information and generate ideas that help us stay ahead in our field. The events are also great for our colleagues to network with like-minded peers, upskill, and even share the knowledge they've accumulated over the years.
With SAFEQ as our flagship product, we join technology events to unearth print industry news, trends, and future predictions. While business exposure is part of the equation, the takeaways we are motivated to generate most are innovative ideas, building and sustaining relationships, and collecting valuable insights about the current state of our industry.
More Than a Decade of Technology Industry Events
In our 20+ years of business, we've been adamant about sourcing and addressing industry news every year. We've listened, learned, and shared our knowledge across various trade shows, expos, conferences, and virtual events.
Over the years, these technology events have helped us carve our path from a novice to a pioneer. We have accumulated learnings which in turn have influenced innovations on our part. New knowledge has turned into visions, and visions into strategies.
🎉 To celebrate where we are today, we've put together a list of 20 events that we've attended over a period of 12 years. From 2011 to 2023, these are the industry events that have inspired our progress to become a pioneer of cloud-first, customer-centric print solutions.



BTA Events in 2022-2023
Business Technology Association (BTA) hosts a variety of events every year across America. Through 2022 and 2023, we've attended four of these events (Fairmont, Chicago in June of 2022, Capture the Magic in Las Vegas in September of 2022, the Fall Colors Retreat in October of 2022, and Spring Break in March of 2023).
During BTA's conferences, we've had a designated booth for Y Soft and our printing technology. We showcased products, hosted competitions, mingled with visitors, and shared experiences and knowledge with industry analysts and our partners.
Sky's the Limit in 2022
Back in June of 2022, we hosted a private event called "Sky's the limit" for one of our strategic partners. The event was planned with the intention to arm our partner with positioning outlines well-suited for their cloud print solutions portfolio.
Our mission included increasing the awareness of these solutions among NOCs, facilitating the promotion of the recently launched cloud offerings, and creating a platform for networking between partners. The event included presentations, breakout sessions, a Q&A session, and a themed dinner.
HP PSS Development Conference in 2021 & 2022
In May of 2022, we headed to Boise, Idaho, to attend the 2022 HP PSS Development Conference and Award Ceremony. During this event, we were awarded the prestigious Innovation Award. The year before, we were presented with the Sales Achievement Award. Note that both of these awards were awarded to us prior to the EveryonePrint acquisition.
During the 2023 development conference in Barcelona, we were privileged to win a third prize, HP's agility award.
TPS Printing Virtual Summit in 2021
Traveling back to October 2021, we attended Total Printing Solutions' (TPS) virtual printing summit. This annual event is dedicated to addressing solutions in the world of printing, digitization, and document management. The roundtable gave industry influencers an opportunity to hear and discuss current trends and available solutions for improving and automating digital transformation processes.
Tech Fest in 2019
Tech Fest is a technology conference in the upper Midwest (US, Minnesota) hosted by Loffler. In one day, visitors discover the latest technology and upcoming trends in cloud, IT, security, and managed print services.
We attended the 2019 Tech Fest, one of many technology events we've attended in the last decade, to give a live demonstration of YSoft SAFEQ 6, its value, and its potential for future collaborative work.
NDC London in 2018 & 2020
In 2018 and 2020, we had some of our internal developers attend the NDC London Conference for Software Developers. Both times, the conference was in QEII Centre in the heart of London (as in right next to Westminster Abbey, Westminster Hall, and Big Ben).
The conference featured a total of 116 talks and opened with a keynote called "We are the Guardians of our Future" by Tess Ferrandez-Norlander. In her talk, Norlander focused on AI and the impact of the software that today's engineers develop.
Get the lowdown from the two developers themselves from the 2020 conference:
→ David and Adam attends NDC London 2020



Bett UK EdTech Show in 2018
The NDC conference was of course not the first time we made our way to London for an event. In 2018, we attended Bett UK, the world's leading EdTech show. Bett is a premier conference and exhibition focused on technology for the educational sector.
During this event, we showcased our 3D printer and software, YSoft be3D eDee, and its potential for education. Especially when combined with the SAFEQ platform.
Design Week, The Makers in 2016
Dubai Design Week was celebrated in October 2016. Included in the celebration was 'The Makers' event located in Dubai's industrial quarter.
This particular event supports the crossover from old to new methods of manufacturing, giving creative people (designers, engineers, craftspeople, and producers) a chance to express their ideas. Attending companies provided visitors with a broad learning experience in creative industries like R&D, software, architecture, crafts, and more.
E-Health Healthcathon in 2016
2016 was a big year for us in terms of event attendance.
In April, we attended a 28-hour-long gathering of developers, UXers, programmers, and others with new ideas (and the ability to face sleep deprivation), to focus on healthcare projects related to the Internet of Things, Telemedicine, and Smart Medication.
The healthcathon took place in Brno, Czech Republic. Here, we got to share our know-how with other talented innovators.
Educatec Educatice in 2017
In November 2017, we joined the Educatec Educatice in Paris. Here, we demonstrated how one installation of SAFEQ can provide schools and universities with an integrated print environment for both 2D and 3D printers.
Schools are increasingly looking to digitize their processes. Student applications, test results and grades, and other student-related paper needs to be captured efficiently and accurately, and then stored automatically. This was our main topic during the 2017 Educatec event.
3D Printing Olympiad in 2016
Back in 2016, we participated in the very first Gulf 3D Printing Olympiad held by ATLAB, at the Gems Wellington Academy, situated in Silicon Oasis in Dubai, UAE. ATLAB is a technology-based hands-on learning solutions company providing innovative educational training and laboratory equipment for K12, higher education, and vocational training.
On display at the event, we had a few be3D eDee printers, which helped to give a better understanding of the technology behind 3D printing. Visitors were encouraged to examine the technology and discover its benefits.
During the expo, we also talked to attendees about how our SAFEQ platform has been upgraded to interact with our 3D software, making it possible to oversee and work with both 2D and 3D printing from one interface.
ITEX in 2016
The first event in 2016 took place in March. In Fort Lauderdale, Florida, Y Soft's Wouter Koelewijn, Chief Product Officer (head of scanning at the time), participated in ITEX, a premier national technology industry event for the office technology and services industry.
During the event, Wouter had a slot to present workflow and business process automation opportunities in the healthcare market. With a focus on the +three-trillion-dollar US healthcare market, Wouter talked about the changes in healthcare that make workflow and automation more important than ever.
DocuWorld in 2015
We joined the 15th annual conference of DocuWorld in March 2015, Singapore's largest document services and communications conference. The event was hosted by Fuji Xerox with Y Soft as a silver sponsor. The theme? "Innovating the Future".
At the event, we showcased SAFEQ, our print and capturing technology solution, and had Y Soft representatives on hand to show the full suite of modular on-prem or cloud solutions. Our aim was to show have SAFEQ can facilitate the future of offices.
European Technology Symposium in 2015
Throughout the years, we've also had the great pleasure of speaking at a variety of events. One such event was the 4th annual Honeywell European Technology Symposium in March 2015 in Brno, Czech Republic. Here, Vaclav Muchna, CEO of Y Soft, was one of three keynote speakers.
This event brought together technologists, engineers, and marketing experts to share ideas on evolving market needs, technology trends and innovation, voice of customers, and more. The objective was to better understand the regional market and support organic growth in Europe.
IT Expo in 2014
As part of the continuing business development activities in the Middle East region with Konica Minolta, Y Soft Middle East was pleased to get a chance to showcase SAFEQ at the 2014 Bahrain IT Expo, held at Bahrain International Circuit (famous for Formula One).
The e-Government forum, IT Expo, and diversified workshops were organized and designed to guarantee a comprehensive ICT experience for all attendees and participants.
Agilia in 2013
In March, a group of Y Soft representatives attended Agilia 2013 in Brno, Czech Republic. The focus of Agilia 2013 was the application of agile methodologies in the IT environment in central Europe.
What makes this conference unique is its narrow focus on a specific topic and its exclusive content. Agilia 2013 ranks among the top ten conferences in Europe, in its field, worth attending.
During the main conference, over 200 registered guests were present and had the opportunity to listen to lectures by internationally recognized speakers from the agile technology domain, such as Tom Gilb, Lennart Francke, and John Styffe.
These events unfortunately have not continued beyond 2015.
GeeCon in 2013-2017
Get your DeLorean, we're going back to the future. At least, we'll be time-jumping in this section. That's because we attended GeeCon five years in a row, from 2013 to 2017.
The GeeCon conference is one of the biggest events in the world of Java programming. In May 2013, the event we attended was hosted in Krakow, Poland. At this event, we were a platinum sponsor and an active contributor to the conference. We participated in talk sessions along with other Java experts, with a focus on highlighting dynamic languages.
In 2014, we made plans with GeeCon's organizers to emulate the event in Prague, Czech Republic. Together, we wanted to introduce this successful concept for the first time outside the borders of Poland. In Prague, we co-hosted the three-day Java-technology-focused event with 50+ sessions, 40+ speakers, and more than 600 participants.
A year later, in 2015, we were a platinum sponsor, co-organizer, and key partner of GeeCON Prague. We took pride in bringing this big conference focused on Java and JVM-based technologies, dynamic languages, enterprise architectures, distributed computing, software craftsmanship, and much more to the Czech Republic.
The number of sessions, speakers, and participants grew–it was amazing to see how the event would further the Java community in the Czech Republic and stimulate interest in technical careers.
In 2016, GeeCon Prague was the region's premier event for Java and JVM (Java Virtual Machines) technologies. We were able to influence the event more, assembling speakers and demonstrations while helping to shape the conference content. We were able to shine a light on the great technical know-how present in the Czechia and give domestic experts (including our own RnD) a forum to share their knowledge and learn from others.

Lastly, in 2017, while remaining a key sponsor, partner, and co-organizer of GeeCon Prague, our R&D team focused its efforts on growing the local developer community in the Czech Republic. Our product architects were actively contributing to the knowledge hub, sharing their experience of a qualitative approach to product development, distributed systems (like SAFEQ), Infinispan, and consistent hashing functions.
To this day, we continue to sponsor the GeeCon events in Prague. And yes, we will naturally be attending the 2023 conference as well.
Before we let the time machine take us back further, here are some honorable mentions of the many outstanding speakers during our GeeCon journey:
Mark Addy,

Senior Consultant at C2B2 a UK Java middleware consultancy

Ted Neward,

Expert in development (C++, Java, .NET, others) and architecture

Tom Gilb,

Systems Engineer and Expert in evolutionary software development

Heather VanCura,

Senior Director of the Java Community Process at Oracle

Jaroslav Tulach,

founder and initial architect of NetBeans, the first modular desktop application framework written in Java



TEDxBrno in 2013
In 2013, we went to surprise TEDxBrno visitors. We became the main sponsor of that year's interdisciplinary conference. A total of fifteen guests from the most diverse fields of science, arts, and business spoke during the event at the Reduta Theatre in May.
At TEDxBrno, we prepared a non-traditional secondary program (surprise for visitors of the TEDx conference) for guests with the intent to point out the environmental aspect of products and the environmental attitude of society. Due to huge interest, was sold out in record time. The name of the program was "How paper feels in the trash bin".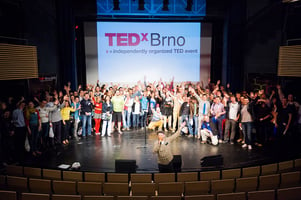 The list of speakers included, among others:
Osamu Okamura,

architect and program director of reSITE

Radka Peterová,

initiator and co-founder of Kanárci.cz

Denisa Kera,

co-initiator of the GeekDiplomacy.org network

David Grund,

board member of the Vaizard Institute

These events sadly have not continued beyond 2015.
Enterprise Mobility Exchange in 2012 & 2015
We went to the Enterprise Mobility Exchange twice, once in 2012 (in Las Vegas, US) and again in 2015 (in London, UK). The Enterprise Mobility Exchange, hosted by IQPC, is widely acknowledged as a must-attend summit for CIOs, VPs, and Directors of IT, Enterprise Mobility, Enterprise Architecture, Field Service, and Operations.
In this intimate forum, attendees shared their experiences and learned from senior mobility practitioners alongside the most innovative solution providers across US. Visitors get insights into how they can develop strategies and build mobility projects that ensure a competitive edge.
Among the experts, visitors met and got to benchmark against:
Las Vegas, 2012

London, 2015

David Krebs, EVP, Enterprise Mobility, VDC Research Group

Buddhi Godawatte, VP Mobile Delivery, SunTrust Banks

John Jackson, Program VP for Mobility Research, IDC Research

George McQuillister III, Principal IT Architect - Mobile Operations Support

Sean Kennedy, Senior Director, IT, AMTRAK

Aashir Shroff, VP Mobile and App Strategy, Wells Fargo Bank

Sean Hagarty, VP Information Technology & CIO, Bioventus

Quinn Banks, Sr. Product Marketing Manager, Mobile Farmers Insurance

Roy Corneloues, Principle Architect, Mobile Solutions, BT

Richard Harding, Head of IT Strategy & Innovation, Heathrow

Matt Groshong, Head of Enterprise IT, BBC

Thomas Naylor, CIO, Salamanca

Amir Arooni, CIO, Head of Global Digital Channels & Payments, ING

Robert Camp, CIO, Bank of Scotland

Julie Kennedy, Head of User Experience, Daily Mail Group




Marc Woods, Mobile Technology UX and Engagement Delivery Lead, TFL

Dragan Pendic, CSO, Diageo
Print Expo in 2011
Israel, a country strongly focused on Research and Development, hosted the 2011 Print Expo in November. Print 2011 took place for the third consecutive year at the Airport City Convention Harbor near Tel Aviv.
Companies that took part in this print industry event are leaders among hardware, software, and service providers. The event includes key presentations and speeches delivered by experts and IT managers.
During the expo, Y Soft's CEO, Václav Muchna, gave an opening session. He spoke about Y Soft's cloud printing solution, which manages servers centrally and automatically distributes configuration settings and updates to multiple locations.

How Industry Events Help Carve the Y Soft Path
Technology events, IT expos, exhibitions, and print industry trade shows each offer opportunities for Ysofters to build industry-relevant relationships, collaborate with partners, seek out new trends and latest industry breakthroughs, and share the knowledge they've accumulated.
As Y Soft continuously pushes to be a more disruptive and customer-centric company, we want to make our relentless innovation to help businesses build better ways of working clear. That innovation doesn't come uninspired or unintended.
To keep carving a future of disruption and industry development, we look to industry events, both physical and virtual. These events contribute with:


Networking opportunities with like-minded peers

Well-primed, high-quality lectures and round tables

Boosting our ability to keep up with industry trends

Expert advice and future predictions

Rooting out news and revolutionary concepts

Brainstorm ideas and unique solutions to customer problems

The events we've attended thus far have all had an influence on the milestones we've reached as a company. At the same time, we look forward to attending even more events in the future. New knowledge is all around us–and we're thrilled to see how we, our partners, other industry experts, yes, even competitors will drive our industry forward.
FAQs on Attaining Print Industry News

Q1) What tech industry events should you participate in?
Not all of the events we've attended are still occurring. Below, you'll find a list of events we've attended that we gained a lot from that are still happening to this day. You'll also find some events we're excited to attend in the future.
Among the many possible events to attend, we recommend the following:
Q2) What's the benefit of attending trade shows, expos, and exhibitions?
As a whole, attending relevant industry events facilitates industry knowledge, understanding of market breakthroughs, networking opportunities, knowledge sharing, and much more. Participating in industry events benefits both the individuals attending and the companies they represent. This includes company exposure, product awareness, networking, relationship building, and employee education.

Final Points
And there you have it. These are some of the many events we've attended in our years in business.
At Y Soft, our work and dedication are directed towards building better ways of working for our customers. We continue to push our products to new standards where automation, simplification, and efficiency reign supreme. Today, that's all about challenging our industry to think of its offering from a new perspective, the customers'. Not what we believe or presume that they want–but the real-value services they crave.
We talk more about that in our "No Print Management" podcast, particularly in a recent episode with Paul Birkett from HP. Listen in as we discuss how we can challenge the future of the industry, move the needle on print automation, and move more industries to the cloud.